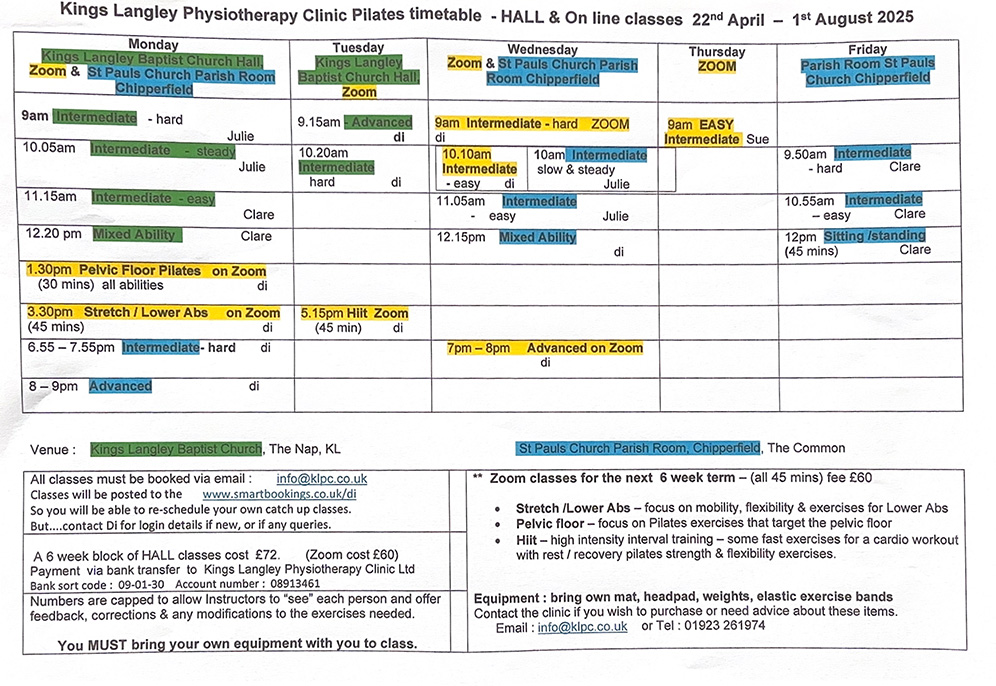 All classes must be booked via email:
info@klpc.co.uk
Classes will be posted to
www.smartbookings.co.uk
so you will be able to reschedule your own catch-up classes, but contact Di for login details if new, or any queries.
New Classes for the next 7 week term
- all 45 minutes
Stretch & Relax - focus on mobility and flexibility exercises.
Lower Abs - exercises to target lower abdominals.
Pelvic Floor - focus on Pilates exercises that target the pelvic floor.
Pelvic floor classes are recorded and available for purchase.
Standing Balance - all exercises performed standing for co-ordination and balance.
Hiit - high intensity interval training - some fast exercises for a cardio workout with rest/recovery Pilates strength and flexibility exercises.
Desk Pilates - exercises to consider posture and movement.
Big Gym Ball - intermediate level and must have own ball and space.
Healthy Bones - mixed ability - exercises with focus on maintaining strong bones, weight-bearing, balance and strength.
Equipment: bring your own mat, headpad, weights, elastic bands with you - contact the clinic if you wish to purchase or need advice about these items. Email:
info@klpc.co.uk
or telephone 01923 261974.
This 7 week block of classes in the hall costs £77.
Payment via bank transfer:
Bank Sort Code : 09-01-50. A/C No: 04285832
Account Name: Kings Langley Physiotherapy Clinic
The timetable is subject to change according to health and wellbeing of instructors and numbers in each class.
Numbers are capped to allow instructors to 'see' each person and offer feedback, corrections and any modifications to the exercises needed.

You MUST bring your own equipment with you to class.
Pilates Classes
During the Covid-19 virus pandemic, all our classes moved on line using Zoom but now, we are back offering some face to face classes in the hall and some will remain on line (see timetable above).
We can take bookings from our existing clients, past attendees and new people who want to start pilates for the first time.
To join, please send an email to
info@klpc.co.uk
, we will send you a health questionnaire by email, with a follow up telephone chat to discuss why you want to start Pilates, if you have any health issues and about your current level of exercise fitness. From this we can find the class that seems most suitable for you.
We have daytime and evening classes at all levels and abilities.
For face to face hall classes
, these will take place in the Parish Rooms , St Pauls Church on Chipperfield common (opposite the Two brewers pub) and in the hall, first floor of the Baptist Church in The Nap, Kings Langley, WD4 8ES.
You will need to bring all your own equipment with you – due to Covid, there is no shared equipment.

It is essential that you have your own exercise mat.
Other optional equipment that might be used, such as elastic resistance bands or headpads or weights can be purchased from the clinic but your instructor will let you know when you need them.
on line classes,
we are using Zoom which you can join using your computer, tablet, I-pad or smartphone providing it has Internet access. We will send you the invitation email with a link, which on the day you click and follow the instructions to join your class at the allotted time link At the start of the class the instructor will welcome you as you come on line and after a brief chat they will start the class. If you have your video camera on, then it might be possible to offer some feedback on your posture and movements, but please remember, that if we can see you, then everyone in the class can also see you in your home. It is your choice to have the video camera turned on or off and you can control the video on /off from your own device. If the microphone is on, then please do not have it too high because it can cause feedback noises which if it persists, it may be necessary for it to be muted (and the instructor can do this for you). As long as you can see and hear the instructor, it is your personal preference as to whether you have your own video and/or microphone on or off. The instructor will explain more about the class as you go on. Payment will be made via bank transfer and details will be sent to you when we reserve your booking request.
Fees : face to face hall classes – 7 weeks £77
On line, Zoom classes – 7 weeks £70
1:1 or 1:2 Pilates classes with an Instructor take place at the clinic and are £55 (these are ideal if you are new to Pilates or have an underlying health issue with concerns prior to starting or during the course of Pilates.
Zoom / on line Top Tips for camera work before you start :

1. Select a good size space so that you can stand and wave your arms about and lie on the floor swinging your legs around without breaking furniture, china, lamps etc.
2. Select 2 camera spots – one waist high for the standing bits of the warm up and the second on the floor, preferably sideways on so that we could see your spine shape when you are on your hands and knees or lying flat on your back.
3. Stand facing a bright light source, i.e. windows. Otherwise with the bright light behind you, you appear as a ghostly silhouette only.
4. You may need to adjust your computer settings to allow the camera/microphone to be "enabled" or "accessed" before class. But remember, if I can see you on the screen, then so can everyone else in the class. It is your choice to have your video displayed or not so please do what you feel most comfortable doing.
5. When adjusting your speakers and microphone so that you can hear us, please do not put them on the maximum as I think that might be why sometimes we have loud, feedback, whistling noises.
6. You can only enter the meeting when I click start, so don't arrive too early because it will tell you that the meeting hasn't started yet. A few minutes ahead of schedule should be fine – we will be allowing a 5-10 minute gap between classes so that everyone can "arrive". Finally If you need any equipment, e.g. overballs, elastic bands or headpads, then contact the clinic for help.
Your description here

Your description here

Your description here

Pilates Therapy
'Pilates. Give it a try! Excellent tuition from an experienced and well qualified teacher using a carefully planned programme for each session. Adapting this programme to zoom classes under lockdown has been very successful. Love the classes'
Ann D from Hemel Hempstead
Pilates Therapy is a mind-body conditioning exercise programme designed to promote core control, improve body awareness, posture, flexibility and functional ability.
Whilst many people chose to take up Pilates Therapy due to a specific problem e.g. low back or neck pain or general stiffness, it is very beneficial to help maintain flexibility and joint movements. It can improve our ability to move, to be more active or just to promote general well-being and good health.
Classes :
last about an hour and include a warm-up (often standing), mat work exercises (e.g. lying down on tummy, side or front, sometimes sitting or on hands & knees) ending with a cool down and stretches for flexibility. Additional items of equipment might be included e.g. pilates overball, elastic resistance bands and rollers, each one added to enhance an aspect of Pilates Therapy.
Different levels of classes reflect the degree of core control and body awareness required to perform the exercises to gain maximum benefit.
Whilst anyone can sign up for a beginners course – not just our patients, it is recommended that a 1:1 session be undertaken with 1 of the physiotherapist instructors prior to starting a course, especially if you have a particular physical problem e.g. a knee or hip joint replacement, longstanding back or neck pains or you are concerned that you have not exercised for a long time. We also recommend a 1:1 session if you are joining a class that has been running for a few terms.
1:1 sessions are held at the physiotherapy clinic, last approx 45-60 minutes and you will be assessed for suitability and be taught a few of the beginners exercises.
Courses :
A Pilates Therapy term is usually 12 weeks split into two 6 week half terms (running with the school term times).
Costs :
A 12 week term costs £131 (New beginners may sign up for an initial 6 week half term.
Venue :
Parish Rooms, St Pauls Church, Chipperfield. WD4 9BS
Missed classes
– there are no refunds for classes missed but an alternative date and time can be booked within the term paid for, (provided there is a space) at a mutually convenient time. Please login to the
smartbookings.co.uk/di
web page and swop your class or email me if you are have any difficulty doing this. Please remember that you need to cancel your class with at least 24 hours notice to gain your credit which you use to re book a "catch up" class (choose a similar level).
NB. this MUST be used within the term (or half term) for which you have paid and Baptist Church, Kings Langley, WD4 8ES.
For specific Pilates Therapy information or to register an interest, either complete the application form at the Physiotherapy clinic or the on-line form.
Or contact us using the email :
info@klpc.co.uk
with your telephone number so that we may call you back within 48 hours.
Please print off and complete this health questionnaire and return to us before commencing your pilates classes.